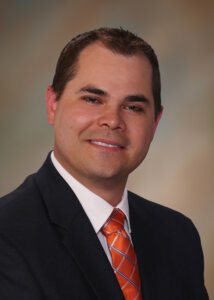 Saginaw, MI, October 26, 2022 – Andrews Hooper Pavlik PLC (AHP) is pleased to announce the promotion of Michael Braun, CPA to Partner in their Flint office effective January 1, 2023.
Braun joined AHP in 2018 as a senior manager in their Owosso office. When AHP acquired the Flint office (formerly Fromholz, Paauwe & Baker PC), Braun transferred to the Flint office to assist in the transition and oversee the day-to-day operations.
With over 20 years of accounting experience, Braun provides tax compliance and planning for small businesses in various industries including medical, real estate, and manufacturing.
Braun is a graduate of Northwood University with a Bachelor of Business Administration in Accounting.
Braun is a member of the American Institute of Certified Public Accountants (AICPA), and the Michigan Association of Certified Public Accountants (MICPA). He is a member of the Genesee Valley Rotary Club and a member of the AHP Tax Committee.
Andrews Hooper Pavlik PLC is a Michigan-based certified public accounting and consulting firm with offices in Ann Arbor, Bay City, Bloomfield Hills, Flint, Grand Rapids, Greater Lansing, Midland, Owosso, and Saginaw. AHP provides accounting, audit, tax, retirement planning, and business and IT consulting for individual and business clients. AHP offers the expertise and resources of a large CPA firm while focusing on excellence and providing outstanding value to our clients at the local level. Experienced. Responsive. Respected.